Brahim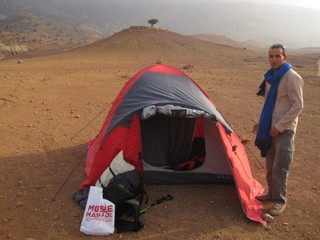 Mountain and desert guide, graduate and approved by the Moroccan Ministry of Tourism, (Berber) from High Atlas mountains and living now in Marrakech, a peaceful town in the middle of Morocco. Specialize in travelling, sharing experience with wonderful people from all over the world...
charged for successful of your holidays in the best conditions for the guiding and safety ...
---
Our guides, muleteers and cooks, natives from the valleys, mountains and Sahara oasis, easiness meetings with a local people and give your visit a real human dimension. With them you will discover fabulous scenery a glamorous lifestyle! meet with another culture is our guarantee of the success of your holidays.

An experienced and dynamic team :
All our guides are Berbers, originaly from the mountains , graduate of the national center for training in the mountain guides , qualified and approved by the Ministry of Tourism. They speak Berber, French, English, German, Spanish and Arabic.
muleteers & camel drivers real nomadics , with their mules and camels, they carry your luggage on their animals, and provide the necessary logistics for the trip. They know the itinerary with a great experience...
Cooks Chosen for their great experience with the tourits groups and with their human qualities, they know make excellent meals from commodity all bio, we have great concious to the quality of food that is part of the heritage of the area, ours always accept with pleasure your help !.
Our services:
Start when you arrive on Moroccan soil and ends when you return to the airport. Between these times you will be fully supported by your guide (transfers, food, accommodation, coaching ...). The only thing it will not do for you is to write your postcards!

welcome and enjoy your visit...